Client: Digiport
Project: Branding Digiport
URL: http://www.digiportmiami.com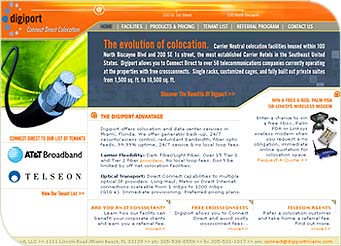 Marketing and Web Site Development Challenge:


In February 2002, Investment Equities Associates (IEA) came to Advansiv just 2 weeks before an important tradeshow with one word - Digiport - a new brand they wanted to create for their existing co-location service business. The tradeshow was to be the first time IEA would present the their colocation business as "Digiport" to the public, and they asked Advansiv to apply their corporate identity expertise to quickly create a brand concept, company logo design, web site design, and cd business cards.



Advansiv Solution:


Combining Advansiv's extensive branding experience - a portfolio of skills that includes corporate identity design, corporate logo design and corporate web design - as well as development strategy and implementation expertise with tight project management capabilities, we delivered within budget and in just 2 weeks, creating the Digiport brand and support materials for Digiport's sales team for the tradeshow and beyond. Our diverse and highly skilled creative team developed a consistent look and message across both print and web media, while our strategic technical team created a consistent web presence that enabled lead-generation with a database-driven tenant database and online contact forms. Finally, to ensure the word got out, Advansiv's Search Engine Positioning Service Team created a strategic search engine placement campaign to ensure top search engine ranking that thereby driving thousands of customers to the digiportmiami.com web site.



Benefit:


Thanks to Advansiv's creative corporate identity design, Digiport's new brand and associated brand equity will provide strong ongoing support for its salespeople as they expand their reach in the South Florida co-location market. This, together with an ongoing search engine positioning campaign, will ensure that Digiport's sales people will have a constant stream of prospects from their web site.



Quote:
"Our lead generation has increased 500% since Advansiv redesigned and optimized our web presence."
Marc Billings
CIO, Digiport